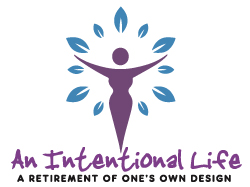 Each of An Intentional Life's coaching packages begins with an assessment process. Our assessments are scientifically designed, validated, and proven as effective tools that help you begin to think about and prepare for your retirement. Your responses to carefully structured questions reveal insights into your current attitudes and opinions about work, family life, relationships, leisure time and more, and how these will be affected as you move toward retirement.
First and foremost, through the LifeOptions Profile™, you gain a strong foundation of personal data upon which you can build the best plan for your retirement. Dr. Richard Johnson, a renowned expert on retirement and adult development, is the creator of the LifeOptions Profile™ and the Retirement Options program. The system and materials we use are based on Dr. Johnson's work of over 20 years of retirement research and is dedicated to helping people lead enriched and fulfilling lives in their second half of life.
The LifeOptions Profile™is a quick 99-question educational online assessment tool covering 20 separate lifestyle and attitudinal factors that are arranged into six sub-sections, or "life arenas." When completed, the LOP generates a 10 page personal report providing short descriptions of each of the 20 factors that are applicable to you.
The second on-line assessment that you will be asked to complete is the VIA Survey of Character Strengths The VIA Survey of Character Strengths is a simple self-assessment that takes less than 15 minutes and provides a wealth of information to help you understand your core characteristics. Most personality tests focus on negative and neutral traits, but the VIA Survey focuses on your best qualities.
Created under the direction of Dr. Martin Seligman, the "father of Positive Psychology" and author of Authentic Happiness and Flourish, and Dr. Christopher Peterson, distinguished scientist at the University of Michigan and author of A Primer in Positive Psychology, and validated by Robert McGrath, Ph.D., the VIA Survey is regarded as a central tool of positive psychology and has been used in hundreds of research studies and taken by over 3 million people in over 190 countries resulting in better workplaces… schools… teams…LIVES the world over
As your coach, I will help you understand the discoveries and insights revealed from your assessments and work with you to build upon this foundation to achieve your retirement dream.